I like to see art in person. I have been seeing a lot of art online. Before COVID and even more during COVID, and that made me realize how much I like to see art in person. Sometimes, I would go to exhibitions to confirm if I liked an artist or a space that I have seen online and, as we train the eye the more we see most of the time I kept liking it, but we can also not like it.

There is something about seeing art in person that is really part of the experience that it is not online. When we see art online we are laying down on a couch, scrolling through Instagram, or checking CAD. The images we see are the images they want us to see, where reflections are usually gone and details are hyper retouched.

When you see art in person, being that in an exhibition or in your private space you can stop to see it, but you can also walk around and see it in between other things, like cooking a meal if you are at home or chatting with a date if you are in a museum. These are the moments I want to create in this space, and that is why I thought this selection of artists was the perfect one to open my gallery.

For me, it was very important to start with Sands Murray-Wassink's "Heart Drawings", a series of works he made in his late 20's where he is pouring all his thoughts. I wanted to start with these drawings because they have the perfect mix of honesty, deep feelings but also art, something very important to me.

Across the big space, you will find works from most of the artists participating in the exhibition. Here the idea of texture and material is really present, especially if we look at the works of W. Rossen, where he is constantly playing with the different layers and materials of the paint to depict moments from daily life that most of the time pass unnoticed, like getting a metro ticket. These daily moments are also present in the sculptures of Sam Lasko, a collection of scenes made of different moments she remembers from her walks. These images are highly recognizable while also unique, as made from memory and patching different spaces into a new one.
The works of Madeleine Ray Hines also depict spaces but different types of spaces, these are spaces where we might feel alienated or inducted to consumption. The shininess of these spaces contras with how they deconstruct ourselves, to maybe create something new. Something similar happens in the paintings of Rasoul Ashtary, based on automated drawings he makes as sketches. The subjects of his works include a variety of topics, from everyday life to satiric moments of publicity and abstract renderization of thoughts and opinions about events and social situations.

In the main space, we can also find two works that enhance the material quality of the works around them, and those are the pieces by Ilse D'Hollander and Mary Heilmann. The first, who could be considered both a landscape painter or an abstract artist is capable through layers and layers of paint creating a moment for observation and reflection. Maybe here is where the landscape appears? Or is it because of the green? On the other hand, the work of Mary Heilmann overlays the analytical geometries of Minimalism with the spontaneous ethos of the Beat Generation. Heilmann is an artist that is always distinguishable by her often unorthodox – always joyful – approach to color and form.

From the backroom, we have been hearing a sound that was present during all our meandering through the exhibition, as if a presence was demanding our attention to go back and discover what is going on. In this space, presented more as a "Salon" we find the sculptures of Cecilia Bjartmar Hylta. These boxes, almost placed as if they were going to move in or out of the storage at any second are filled with different oils and pumped to make them "breath". They remind us of the fragility and uniqueness of every moment.

---
Sands Murray-Wassink (b. 1974)
My God

Pen and marker on paper framed by the artist with museum glass
59 x 42 cm (66 x 48,5 cm framed)
23.23 x 16.54 in ( 25.98 x 19.09 in framed)

Executed in 2002

Sands Murray-Wassink (b. 1974)
STAGGERING

Poster marker, pen and coffee on paper framed by the artist with museum glass
59 x 42 cm (66 x 48,5 cm framed)
23.23 x 16.54 in ( 25.98 x 19.09 in framed)

Executed in 2000

Sands Murray-Wassink (b. 1974)
Listen To Your Support System

Pen, marker and make-up stains on paper framed by the artist with museum glass
59 x 42 cm (66 x 48,5 cm framed)
23.23 x 16.54 in ( 25.98 x 19.09 in framed)

Executed in 2001

Sands Murray-Wassink (b. 1974)
Growing older (Nikki)

Pen, marker and coffee on paper framed by the artist with museum glass
59 x 42 cm (66 x 48,5 cm framed)
23.23 x 16.54 in ( 25.98 x 19.09 in framed)

Executed in 2001

Sands Murray-Wassink (b. 1974)
Topeka Was Really

Pen and marker on paper framed by the artist with museum glass
59 x 42 cm (66 x 48,5 cm framed)
23.23 x 16.54 in ( 25.98 x 19.09 in framed)

Executed in 2001

Sam Lasko (b. 1992)
Garden A

glazed ceramic
30 x 25 x 40 cm
11.8 x 9.8 x 15.7 in

Executed in 2019
Sam Lasko (b. 1992)
Garden C

glazed ceramic
40 x 35 x 18 cm
15.7 x 13.8 x 7.1 in

Executed in 2019

Sam Lasko (b. 1992)
Garden D

glazed ceramic
40 x 35 x 20 cm
15.7 x 13.8 x 7.9 in

Executed in 2019

Sam Lasko (b. 1992)
Garden E

glazed ceramic
35 x 30 x 20 cm
13.8 x 11.8 x 7.9 in

Executed in 2019

Sam Lasko (b. 1992)
Garden F

glazed ceramic
35 x 30 x 45 cm
13.8 x 11.8 x 17.7 in

Executed in 2019

Rasoul Ashtary (b. 1991)
Untitled (check up)
Oil on canvas
200 x 150 cm
78.7 x 59 in

Executed in 2022


Ilse d'Hollander (b. 1968 - 1997)
Untitled
Oil on canvas
54 x 44 cm
21.2 x 17.3 in

Executed in 1996

Lucas de Bruycker, Gent
Private Collection, The Netherlands

Literature:
Ilse d'Hollander - Untitled
Museum M., Leuven/Hannibal, Veurne, 2013
(Image, p. 209)

W. Rossen (b. 1995)
Untitled

Oil, arcylic, paper and canvas on wood
30 x 30 x 4 cm
11.8 x 11.8 x 1.5 in

Executed in 2022


W. Rossen (b. 1995)
Untitled

Oil and arcylic on canvas
120 x 120 cm
47.2 x 47.2 in

Executed in 2022

Mary Heilmann (b. 1940)
Twist of Fate
Oil on shaped canvas
76.2 x 76.2 cm
30 x 30 in

Executed in 2005

Hauser & Wirth
Private Collection, The Netherlands

Madeleine Ray Hines (b. 1988)
Untitled
Oil on linen
82 x 51 cm
32,5 x 20 in

Executed in 2021


Madeleine Ray Hines (b. 1988)
Untitled
oil on canvas
82 x 51 cm
32,5 x 20 in

Executed in 2022


Rasoul Ashtary (b. 1991)
Untitled
Oil on canvas
150 x 150 cm
59 x 59 in

Executed in 2022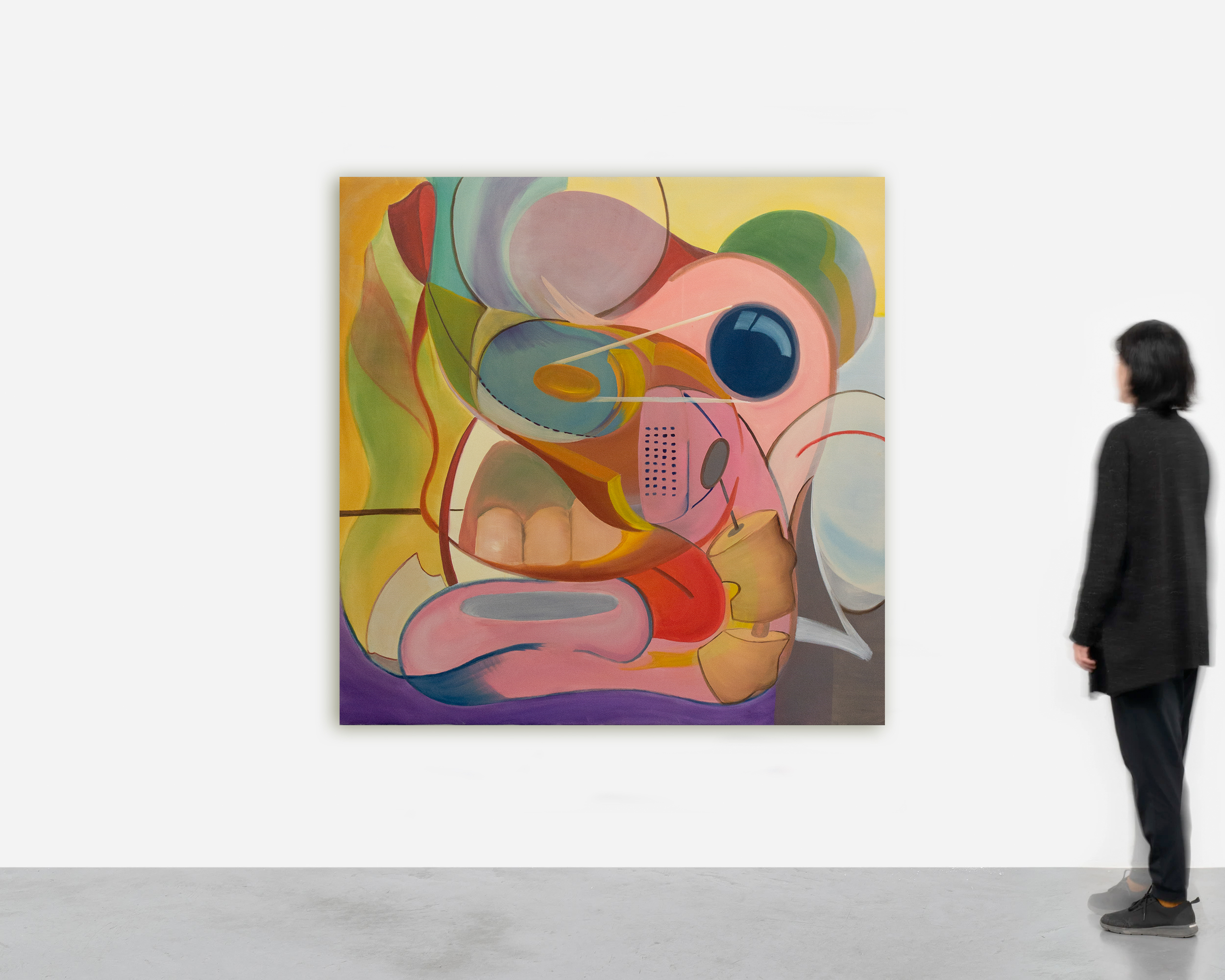 W. Rossen (b. 1995)
Untitled

Oil and arcylic on jute
42 x 30 cm
16.5 x 11.8 in

Executed in 2022
W. Rossen (b. 1995)
Untitled

Oil, acrylic, paper, wire and canvas on wood
30 x 30 x 4 cm
11.8 x 11.8 x 1.5 in

Executed in 2022
Cecilia Bjartmar Hylta (b. 1992)
Trace amount
Cardboard, food-grade industrial lubricant, air, reinforcement materials, electronics

116 x 32 x 22 cm
45.6 x 12.6 x 8.6 in

Executed in 2021

Cecilia Bjartmar Hylta (b. 1992)
Trace amount
Cardboard, food-grade industrial lubricant, air, reinforcement materials, electronics

106 x 70 x 12cm
41.7 x 26.5 x 4.7 in

Executed in 2021
Rasoul Ashtary (b. 1991)
Untitled
Oil on canvas
150 x 200 cm
59 x 78.7 in

Executed in 2022