Stevenson and Diez Gallery are pleased to present
Welcome to Frontier Country
by Simon Gush. The artist's trilogy of documentary films use a neo-Marxist approach to unravel the issue of land in South Africa - spanning the 20th century laws behind dispossession to current debates around restitution. Focalised through the experiences of the artist's ancestor and his immediate community in the Eastern Cape province, the works offer a unique perspective of the entanglement between the personal and political. Gush has written:
This project started in 2016 as a simple idea for a short film based on an anecdote about my ancestor, Richard Gush. On arriving in Salem, South Africa, he deliberately built a church before building a house for his family – the act of work a way to claim his space in a new land. The project grew, and the turning point in my research came when I discovered that this church and the land around Salem were part of a controversial land claim making its way through the courts and still awaiting its final conclusion. The legal aspect of this land claim forms the basis of Land is in the Air, the first of three films on exhibition.

At this point the relationship between land and work became central to my project. A quick glance at the election posters earlier this year would have revealed that these are, separately, some of the most important issues facing South Africa. What I am interested in, however, is how historically and in the present day land and work are entangled; how the dispossession of land was linked to the creation of a workforce for the colony and, as I discovered after spending time with the community on the restituted farms, how work still affects and structures the processes of return.

Welcome to Frontier Countrywas first shown at Stevenson in Cape Town in 2019. The interviews informing the films were conducted in collaboration with journalist Niren Tolsi, with the musical score composed by Healer Oran. This screening of Gush's research project coincides with 2022 edition of the International Documentary Film Festival Amsterdam.

About the collaboration

Sharing real estate is one of the most direct and tangible ways galleries can collaborate. Stevenson's space on the Prinsengracht does not lend itself to large video installations, so when gallery director Joost Bosland started speaking with Diego Diez earlier this year, the conversation quickly became about doing a joint project during IDFA, the International Documentary Festival Amsterdam. The choice of what to show turned out to be an easy one: diez is located in a former courthouse, built in the Brutalist style in the mid-1970s by architect Ben Loerakker. Simon Gush's Welcome to Frontier Country centres on a court case, and many of the scenes depict court proceedings. Moreover, the 1820 Settlers National Monument, a Brutalist building from 1974 in Makhanda, South Africa, features prominently in the second film in the trilogy.
---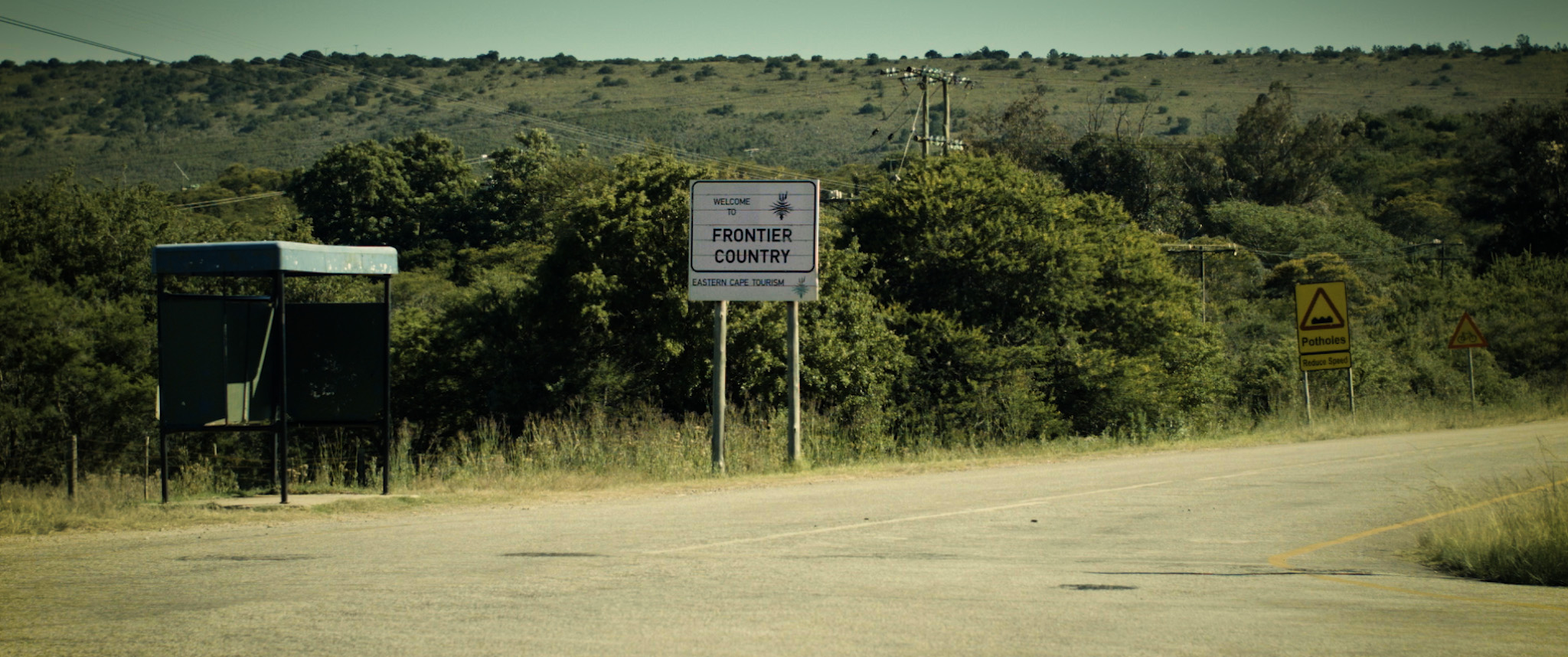 Land is in the Air, 2019

Two-channel HD video, stereo sound
30 mins

Edition of 3 + 2 AP


A Button without a Hole, 2019

Two-channel HD video, stereo sound
30 mins

Edition of 3 + 2 AP
Working the Land, 2019

Two-channel HD video, stereo sound
30 mins

Edition of 3 + 2 AP